Recently while waiting for a bus, I was treated to this safety campaign poster from the office of San Francisco District Attorney George Gascón: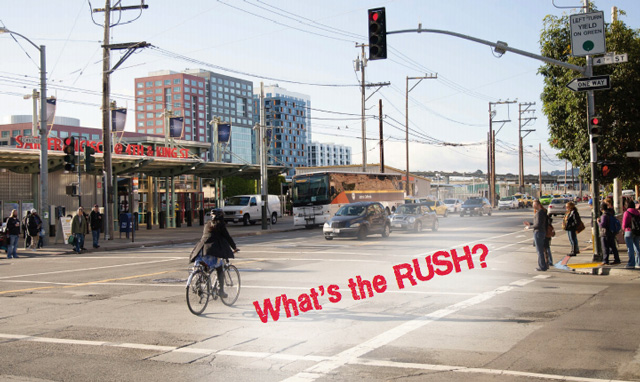 Hmmmm
The DA seems to be having a little bit of a problem expressing himself, as I would guess that what he's really trying to ask is "Why is this woman bicycling in this intersection while the traffic light governing her direction of travel is red?" So, given the presumptuousness, confirmation bias, and possible psychological projection the original question carries, I considered instead the underlying one.
Here are a few possible answers I came up with just off the top of my head:
If this photo was not of the busy Caltrain intersection, I could have added to the list the possibility that there were no cars traveling in the same direction she was, and after waiting many moons for a green light, she finally realized that the traffic signal was one of the "smart" ones that would never actually detect her bike and turn green.
Solution: Following Portland's example, install bike-specific detectors, clearly label them, and include an indicator light that tells cyclists they've been detected. There's nothing like knowing the infrastructure was lovingly made with you in mind to encourage you to comply with its wishes.
A-HA!
While contemplating the photo a second time, I noticed one very revealing detail: The pedestrians on either side of the street are still waiting for their signal and have not started crossing. This means the traffic signal is frozen in that brief moment between the time the east-west traffic light turns red and the north-south pedestrian light turns green. So in this particular case, our cycling hero probably just didn't have enough time to clear the intersection before the yellow light turned to red, an understandable and common problem cyclists face because the yellow lights are timed for cars, which can and do clear the intersection must faster. This is especially problematic at multiple-lane intersections like this one.
So there you go, George. Mystery solved!
And here's my solution: Instead of spending time and money proliferating an inflammatory finger-pointing campaign, invest in trailing bike signals that allow cyclists more time to get through intersections. These would also enhance safety and sanity for everyone by increasing separation between bike and car traffic and reducing the speed differential when the two do meet up again down the road.
A real way forward
While the strategies I've just outlined are easy ways to bring more order and predictability to our intersections, by far the most effective way to defuse the conflicts and dangerous dynamics happening on our roads is to use well known traffic-calming measures to slow car traffic down, providing all road users with the necessary leeway to safely and mindfully negotiate the space together.
I mean, after all, what's the rush?